The power supply to the Din rail in the case of 13 mm
An ultra-thin case - wide is only 13mm

Stabilized output voltage

Protection against overcurrent

Protection from overheat

Galvanic isolation from the net
Output voltage adjustment

+/-10%
PURPOSE OF THE POWER SUPPLY
 Pulse power unit BPI-13 is a secondary power supply with galvanic isolation and has designed to supply a stabilized voltage of various devices (sensors contactless, thyristor switches, controllers, etc.).
  DESIGN OF THE POWER SUPPLY
 The power supply is produced in a plastic unified case with front connection wires power and switched circuits. Mounting is carried out on a DIN rail  width 35mm (GOST R IEC 60715-2003) or on a smooth surface. To set on a smooth surface, you need to push locks. Terminal design provides robust clamp wires up to 2,5mm2. The front panel has green LED, indicating power voltage "Vout".
OPERATING CONDITIONS
Altitude up to 2000m. Environment - non-explosive, not containing dust in the amount of disruptive relay, as well as aggressive gases and vapors in concentrations destroying metals and insulation. Fitting location of the power supply must be protected against spray water, oil, emulsions. Vibration relay mounting locations with a frequency of 1 to 100 Hz with acceleration up to 9,8m/s2. Condensation occurring products are not allowed.
CONNECTION OF THE POWER SUPPLY
 The device is connected to AC230V power supply. In the presence of the supply voltage is turned on green power indicator «U». In the event of an overload power indicator goes out.
SPECIFICATION OF THE POWER SUPPLY

A parameter

Unit

BPI-13-5

BPI-13-6

BPI-13-9

BPI-13-12

BPI-13-15

BPI-13-24

BPI-13-48

Supply voltage (50Hz)

V

АС160...260

Stabilized nominal output voltage

V

5

6

9

12

15

24

48

The range of output voltage adjustment, no less

%

+/-10

+/-10

+/-10

+/-10

+/-10

+/-10

+/-10

Output current

A

2,0

1,7

1,1

1,0

0,8

0,5

0,3

Output power

W

10

10

10

12

12

12

12

Efficiency, no less

%

70

75

80

85

87

88

90

Magnitude of the pulsations, max

%

2

Isolation voltage between input and output, not less
V
1000

Operating temperature range

°C

-25...+55

Storage temperature

°C

-40...+70

Immunity to interference from bursts in accordance with GOST R 51317.4.4-99 (IEC/EN 61000-4-4)

 

level 3 (2kV/5kHz)

Immunity to interference over voltage in accordance with GOST R 51317.4.5-99 (IEC/EN 61000-4-5)

 

level 3 (2kV А1-А2)

Climatic modification and placement category by GOST 15150-69

 

UHL2/UHL4

The degree's protection at case/terminals according to by GOST 14254-96

 

IP40 / IP20

The degree of pollution in accordance with GOST 9920-89

 

2

Relative humidity of air

%

up to 80 (at 25°C)

Height above sea level

m

till 2000

Operating position in space

 

artbitrary

Mode

 

round the clock

Dimensions

mm

13х93х62

Weight, not more

kg

0,07
CIRCUIT CONNECTION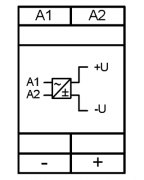 DIMENSIONS OF THE POWER SUPPLY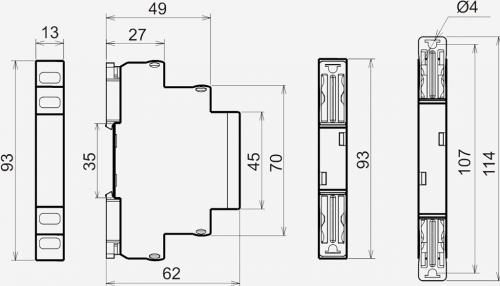 Title

Order code

File to download

(manual)

File date

BPI-13-5 UHL4

4640016937165

Download

03.06.2015

BPI-13-6 UHL4

4640016937585

BPI-13-9 UHL4

4640016937608

BPI-13-12 UHL4

4640016937189

BPI-13-15 UHL4

4640016937196

BPI-13-24 UHL4

4640016937202

BPI-13-48 UHL4

4640016937219

BPI-13-5 UHL2

4640016937554

BPI-13-6 UHL2

4640016937578

BPI-13-9 UHL2

4640016937592

BPI-13-12 UHL2

4640016937615

BPI-13-15 UHL2

4640016937622

BPI-13-24 UHL2

4640016937639

BPI-13-48 UHL2

4640016937646
English